[You got a message from @CraigCuttlefish]
Hey there squiddo! The person who made this page needs some new suggestions/help with something, probably for design, songs, writing, etc... Care to lend a tentacle? Peace out! ✦
CANDI NOW LOOKING FOR SONG IDEAS! HEAD TO THE COMMENT SECTION AND HELP OUT!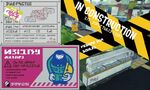 "Sorry, this page is still in construction!"
Please don't edit this page without the owner's permission, or we'll have the admins involved. Thank you for visiting the page, and stay fresh!
Candi is a singing group of two idols,made by pastel Eevee (MC Pastel is her FANDOM account) based on the splatoon franchise.They both live in modern inkopolis square 3 years in the future.
''Stay Sweet!''-Mo and Vivi (A.K.A candi)
WARNING:NONEof this is canon!This is FANMADE. Thanks,and stay sweet!
Appearance
Mo
Mo is a 22-year-old, 4'11"(1.2 m) Octoling. Her skin is blue, due to being sanitized. Her eyes are golden, her hair is medium-length and colored lavender purple and styled in a mini ponytail with her bangs loose. She wears a blue crop-top and a pink mini-skirt that she twirls a lot with,and purple slip-on sneakers with purple octopi all over. She has long socks the color of her hair and wears a gold chain on her neck.She also has a pastel bandage on her nose. Her signature color is lavender.
Vivi
Vivi is a 20-year-old,6'0"(1.89 m)inkling.Her skin is light brown,and her eyes are teal.Her hair is long and colored pastel pink.She wears a bright yellow hoodie and a blue mini-skirt.Her shoes are hi-top sneakers with pink squids all over. She has knee-high socks the color of her hair and wears a silver chain on her neck. Her signature color is pastel pink.
Personality
Mo is an outgoing,fun loving octo who enjoys singing and helping vivi with her DJ equipment,while vivi is a chill inkling who would rather spend her time inside with her DJ equipment, than out playing turf like mo.She enjoys spending time with Mo and messing with all her tech.Even though they are different when it comes to personality, mo and vivi are the best of friends.
Backstory
Mo
Mo is an escaped sanitized octoling from the deep sea metro. Just like deadf1sh, she escaped after Agent 8 made it to the surface and took down Tar Tar.After she left the deep sea metro,she hid out in octo canyon/valley were she met vivi,who wandered from her home and got lost in octo canyon/valley.The two quickly became friends and started candi. Soon vivi got a house and mo moved in with vivi. Even though mo is ecstatic almost all the time, she does get PTSD thinking of the deep sea metro or if someone mentions it,but she rarely shows it at all.
Vivi
Vivi is a inkling who was born into a poor family.She has 2 sisters named marine and casy Vivi is the oldest out of the 3.Even despite her family's financial problems her parents still loved her and her sisters very much.One day her father made a video game named squid beatz(you may have heard of it!)which made them a fortune.Soon vivi entered a singing contest and won(much like the squid sisters.) and started her singing career at age 15.Soon vivi wandered from home and ended up in octo canyon/valley were she met mo. They quickly became friends and started candi.Then vivi got a house and mo became roommates with her.Vivi still loves her family and still visits them.
Band Roles
Mo is the main vocals,sometimes the rapper. occasionally she does guitar. Vivi does DJ,background vocals,and sometimes drums.
Splatfests
Note:I don't have splatoon 2 yet but when I get it these will exist i PROMISE!
| mo's team | Vivi's team | winners | dates |
| --- | --- | --- | --- |
| Honey nut Cheerios | Normal cheerios | N/A | N/A |
| Reading | Writing | N/A | N/A |
| Painting | Drawing | N/A | N/A |
Community content is available under
CC-BY-SA
unless otherwise noted.