"Get on the stage, and let your light shine!" 
NightShine is a fanmade idol duo and host of Inkopolis News in Project Splatoon 3, created by Calamari Crew group.
They announce stages, game modes, Splatfests, among other news, in Inkopolis Coast. The duo consists of Boreal, an Octoling, Albin, a Cuttlefish, and their two little friends, Kyshu and Seamoon, who are sea bunnies.
Appearance
Boreal
Boreal is a 22 year old Octoling, the oldest of the NightShine duo, alongside with Albin. His hair is multicolored, in shades of pastel colors, by style. His hair is long, and tied back in a "samurai style". The marks on the eyes are sharp, unlike the other octoling boys. His eyebrows are bluish, his eyes are purple, and his pupil is black and white, which stands out a lot on a Splatfest night.
He usually wears long clothes, which match his partner, Albin. Their main clothes consist of long jackets, in neon tones, with a golden decoration on the sleeve, and shapes that stand out at the bottom. Your boots are always matching your jacket. He uses a naruto as a headgear, and a visor. His clothes are from the Albin family's fashion brand, PrismLight. He has an earring on his left ear, which he won from Albin at a certain point in his life.
His default color is Aurora Blue.
Albin
Albin is a 20 year old Cuttlefish, the youngest of the NightShine duo, alongside with Boreal. His hair is multicolored, in shades of neon colors, by style. His hair is a bit short, compared to Boreal's, with a tentacle on the left side, and tied back with a Hashi (Chopsticks). It has pointed lashes, yellow eye, with white and black pupil. Its tentacles shine at night, due to the use of luminescence paint in its hair. His hair has always been white, so he loves to paint in various colors, as he finds only one very sickening.
He usually wears short clothes, to match his partner, Boreal. Their main clothes consist of a short jacket, in pastel colors, with a shade of magenta on the bottom. Your shoes are always matching the jacket. His striking accessory is his own Hashi, as he always uses several models. He also uses a visor. His clothes are from the brand that Boreal sponsors, StheticShell. He wears an earring that marked an important moment in his life with Boreal. Albin's hair color is completely white (hence the origin of his name, derived from albino)
His default color is Cherry Blossom Pink.
They are sea bunnies and can be seen on Inkopolis News, and comment most of the time.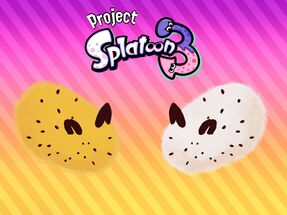 Kyshu is the most lively and outgoing, while Seamoon is the most relaxed and lazy. They met Boreal and Albin one night, where they were injured. If it weren't for them, they would never have seen the light of day again. It was due to the attack of an unknown, furious species that appears near the beaches in the darkness of the night. They have a high creativity, and sometimes help both in choosing clothes, poses for photos, and in music (if it weren't for them, Albin and Boreal would never think of the final part of one of their songs).
(Kyshu is white, and Seamoon is orange)
Kyshu usually sits on Albin's hair, and Seamoon sits on Boreal's lap. Both have many fans, and are considered to be very "cute and adorable" around the city of colors, Inkopolis.
We are still producing the details of the story and everything, and for now, this is what we can share :). The page will be updated as we continue with the Project!
Community content is available under
CC-BY-SA
unless otherwise noted.