[You got a message from @MCPrincess]
Woah, hold on dude! Whoever made this page hasn't finalized all their ideas yet, so some content on here might change afterwards, ya hear me? ☆ Don't get cooked, stay off the hook!
"Society's a bore, so get down on the floor / And get caught in the programming that we've got in store."
Takoraid is a fanmade band based on the game Splatoon. The band was created by Raining13. They provide music for both in-game matches, as well as the Inkopolis Post Podcast in Inkopolis Center. The band consists of Tem, an octoling, Pulpo, a single-tentacle octarian, Zhang, a twin-tacle octarian, and Pipa, an octoling.
The band's genre is a mix of punk rock and heavy metal. Their harsh punk and metal beats break away from stereotypical octarian music, inspiring those who hear it to seek out music other than that of DJ Octavio. After three years, lead singer and guitarist Tem Ashi left to join Squid Culture. Songs created after Tem left the band are noticeably more empty and electronic.
Band Members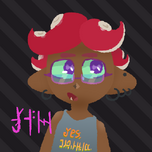 Tem
Tem Ashi grew among octarian society but ran away from his parents at a young age. From there, he joined a newly budding Takoraid, becoming their main songwriter and guitarist. He wrote and performed for Takoraid for three years, providing both his voice and his growing guitar skills. However, after hearing the Calamari Inkantation late one night, he made way for Inkopolis and became a part of Squid Culture.
Pulpo
Pulpo is a single-tentacle octarian who works on the band's drum beats. After Tem left Takoraid, they became the main vocalist.
Zhang
Zhang is a twin-tacle octarian in charge of the electronic instruments incorporated into their songs. It's mentioned that she's jealous of octoling's looks and wishes she could be an octoling herself. To compensate for not being an octoling, she decided to start producing music.
Pipa
Pipa is an octoling who does backup vocals for Takoraid. Since Tem's departure from the band, she's become self-conscious of her own singing abilities, convinced that she'll never be able to sound quite like Tem.
Music
Trivia
Pulpo's name is Spanish for "octopus."
Their song "Hurricane Season" was directly inspired by Pearl's "#$@%* Dudes Be #$@%* Sleepin."
Tem himself made the cover art for Takoraid's first album and is rather embarrassed about it. In his words, he's "a songwriter, not an artist."
Community content is available under
CC-BY-SA
unless otherwise noted.