"Stay together!" TwinTacle is a fanmade idol duo based on the game Splatoon created by Charachimeco and Yami as a collaboration project. It consists of Etoile and Namako. They are both Inklings. They are both 19-years old.
Appearance
Etoile
TBA
Namako
TBA
Music
| Name | Type | Vocals | Link |
| --- | --- | --- | --- |
| One & Two | Ebb & Flow cover | Etoile and Namako | YouTube |
| TBA | Plaza Theme | Etoile and Namako | TBA |
| TBA | TwinTacle News Theme | None | TBA |
| TBA | Etoile's solo | Etoile | TBA |
| TBA | Namako's solo | Namako | TBA |
History
Namako and Etoile loved writing songs and creating music. But because they weren't quite self-confident about their musical or singing abilities, they mostly kept their music to themselves. But after hearing the new single, Fresh Start, by the Squid Sisters, they became inspired to share their music with the world. They started off small, just selling CDs of their first couple of songs, but as their popularity began to grow, fans were demanding live concerts from the two. The fans wanted to see them in person, get autographs signed by them and even for them to make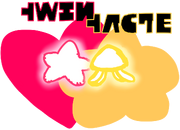 appearances on the news and at Splatfests. This was all too overwhelming for Etoile. She told Namako she wanted to quit being an idol. Namako begged her not to quit after getting so far. But she wouldn't keep going. So it was back to square one for the two. A few months later, Etoile was looking at TwinTacle's website and found many comments like, "We want the twins back!" and "They're so awesome and cute!" and decided to keep going. Soon, they had given their fans what they wanted, and they continued their career as popular idols.
Personalities
Etoile
Etoile is very mature and responsible, but shy when it comes to others. She is often very quiet when meeting new people, and lets Namako act as her voice when she can't bring herself to speak. She never wants to be without Namako and refuses to do live shows and news broadcasts without her. If she tries to, she'll get scared and go off-camera, causing the news to end.
Etoile likes art a lot and does art as a side job in her free time from being an idol. At night, she often looks at the stars when she can't sleep, which usually puts her to sleep on sleepless nights. Though she likes art a lot, she doesn't show her works to others, except for Namako, because she's so shy.
The color of her ink is salmon, but during a Splatfest, it changes to the color of her team.
Namako
Namako is bubbly and cheerful often, and has no problem speaking to others and meeting new people. Because her twin, Etoile, is very shy often, she tries to encourage her and give her confidence. But she can get upset at times, usually getting cheered up by her sister, Etoile, whom she loves very much. Even though she doesn't show it most of the time, Etoile can tell when she's upset from her usual big smile becoming a less honest smile.
Namako likes baking a whole bunch and so in her free time from idol work, she bakes things like bread and sweets for her and Namako to eat when they're busy or are craving something delicious. When her and Etoile aren't munching on the delicious pastries she makes, she sells them at bake sales for others to enjoy.
The color of her ink is yellow, but during a Splatfest, it changes to the color of her team.
Official Art
Trivia
Etoile's name means "Star" in French.
Namako's name means "Sea cucumber" in Japanese.
Etoile likes art a lot and likes being able to fling ink everywhere, so she mains Brushes often.
Namako likes going quick and zooming around in battles, so she mains Rollers often.
Community content is available under
CC-BY-SA
unless otherwise noted.