"Don't be a fool... Stay cool!"

Twin Tropical is a group of idols that are located in Inkopolis Harbor.
Twin Tropical focuses on a tropical/electronic style of music, and is composed of the two cousins Bree (Reisha in Japan) and Zi (Koko in Japan).
Zi
When Zi was a baby, she lived in Inkopolis Plaza. Her full name is Kayla Zi Rodes. As a newborn, her parents were battling together but abruptly their spawn point broke down, causing their gas forms to disintegrate completely. Ever since then, Zi has been living with her cousin, Bree. Zi is often described as hyper, bouncy, but slightly secretive and quiet at times. Zi will donate to the orphanage from time to time, causing her to feel good about helping those who weren't as lucky as she was.
Bree
Bree was born into a family who was slightly poor, though they are exceptionally good at creating gear, they became more wealthy folk as they were promoted in the brand Tentatek. Her family now owns the company CoralBright, one of the most colossal companies for gear. Bree's full name is Keese Bree Toda. Bree can often be found with her cousin, Zi. Bree is often described as bright, relaxed, and talkative. Bree can be found sitting at the beach and texting her relatives and answering Q&As.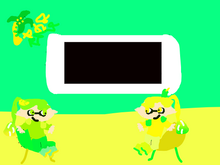 History
Ever since they were young, Zi and Bree have loved playing together. By the time Bree was three and Zi was two, the two were banging on the kitchen pots. At 5, Bree had an impressive singing voice, and at age 4 Zi could memorize music in a snap. They would make up dances, and perform concerts for Bree's parents.
When Bree was 7 and Zi was 6, Bree had the idea for a music duo. Soon, they were found scribbling down song lyrics in a funky handwriting that only the two could read.
After winning quite a few singing competitions, Bree was 11 and Zi was 10. Both could sing phenomenally, and could sync dance moves. They were in the news for singing contests and talent shows all the time. Bree usually did the talking, Zi adding the action and the jokes, because in their first interview, Zi said something Bree thought was weird and screwed it up.
When Bree was 15 and Zi was 14, they were practically stars! They were even having block concerts and had 4 official songs. When Bree turned 17, the duo was asked to become the new idols! They accepted gratefully, and Zi even jumped onto Bree and gave her a big hug. For dinner, they ate at the Inkopolis Cafe, Bree's favorite restaurant. The family later moved to Inkopolis Harbor to start off Twin Tropical's new career.After their 8th Splatfest, Zi proposed the idea of going by their middle names and redesigning their looks. Bree agreed, and from then on, Keese and Kayla were known as Bree and Zi.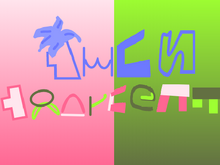 Music
| Name | Type | Released |
| --- | --- | --- |
| Swimmer's Secret | Final Boss theme | March 2020 |
| Inkopolis News | Basic news theme | April 2020 |
| Now or Never | Final Minute Cover | May 2020 |
| Tropinkal Soda | Splatfest theme | April 2020 |
| Colorful Victory | Main hub Splatfest theme | April 2020 |
| Wave Craze | Splatfest Theme | April 2020 |
Splatfests
| Bree's Side | Zi's Side | Art | Winner | Dates |
| --- | --- | --- | --- | --- |
| Chick-Fil-A | McDonalds | | Chick-Fil-A | August 24th, 2019-August 25th, 2019 |
| Autobombs | Suction Bombs | | Suction Bombs | September 14th, 2019 - September 15th, 2019 |
| Bats | Jack-O-Lanterns | | Jack-O-Lanterns | October 12th, 2019 - October 13th, 2019 |
| Pumpkin Pie | Apple Pie | | Apple Pie | November 9th, 2019 - November 11th, 2019 |
| Sandals | Sneakers | | Sneakers | December 21st, 2019 - December 22nd, 2019 |
| Giving | Getting | | Giving | January 11th, 2020 - January 12th, 2020 |
| Lazy | Active | | Lazy | February 15th, 2020 - February 16th, 2020 |
| Beach | Forest | | Forest | March 13th, 2020 - March 14th, 2020 |
| Break | Festival | | Break | April 11th, 2020 - April 12th, 2020 |
Official Art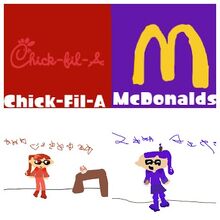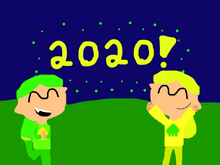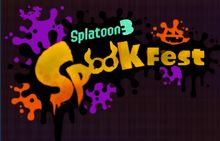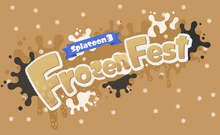 Fanart
Trivia
Their last names, Toda and Rodes make Todarodes, after the first part of the scientific name of the Japanese flying squid, which they are based off.
There original phrase was "Keep calm and ink on!", but it was later changed to "Don't be a fool... Stay cool!"
Even though Kayla wears a skirt in the Chick-Fil-A vs McDonalds official artwork, she does not own it, the skirt was a concept detail.
At first they looked greatly similar to each other, but the redesigns changed that up quite a bit.
Bree's Japanese name is a combination of the name Reika and "Talkative" in Japanese.
Zi's Japanese name means stork... How weird! Also, it is Japanese for the word "Here".
This idol duo is found on Scratch mostly, so visit this link to check it out!
Community content is available under
CC-BY-SA
unless otherwise noted.